We will provide documents required for visa application upon request by the participants who have finished payments. Requests should be made before the deadline of the early registration (15th Feb. 2023). Check carefully the web page of Ministry of Foreign Affairs for necessary documents:
https://www.mofa.go.jp/j_info/visit/visa/index.html
Updated on 27th Feb.:
We are still accepting the request of visa documents. Prepare your documents at your earliest convenience.
By default, we issue an invitation letter of our format. Sample letters are following:
For most of the countries, this invitation letter should suffice as a "document to explain activities in Japan". For travel schedule (travel itinerary), use the following pdf form below to indicate your plan and send us along with the request of an invitation letter.
If you apply visa for multiple people simultaneously, we also request you to send the "List of Visa Applicants" using the pdf form below:
If you need an "Invitation Letter" and/or "Letter of Guarantee" of the format by the Ministry of Foreign Affairs, we also issue them upon request. However, to make the process simple, request them only if necessary.
Google Form for Letter Request
Use the following Google Form to request an invitation letter and other documents. You need a Google account to complete the form. If you cannot access / do not have a Google account, use the mail form at the bottom of this page.
https://forms.gle/HHn9PqkGof5FrChLA
In the form, we request you to input the AMARYS inquiry number. This is displayed at the top of the AMARYS My Page after you log in to the registration system. Use only the first six digits before "-".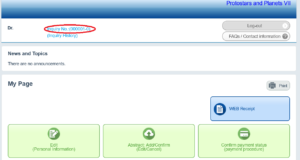 LOCs will check the input of the form against what is recorded on the AMARYS system and then issue the letters.
For general questions regarding Visa issues, contact:
visa@ppvii.org
E-mail Form for Invitation Letter Request
For those who cannot use Google Form, complete the form below and send the request to:
visa@ppvii.org
In the title of your message, include your AMARYS inquiry number. If you use our invitation letter for visa application, attach your travel schedule and the list of applicants (if multiple people apply for visa).
—————————————–
– Your E-mail Address:
– Your AMARYS Inquiry ID:
– Full Name (in Latin Alphabet, as it appears in your passport):
– Your Title (Dr., Prof., Ms., Mr., etc.):
– Nationality:
– Your Address to be written on the invitation letter:
– Do you present a poster at PPVII in-person meeting? (leave one)
    Yes / No
    – If yes, poster title:
– Attach your travel schedule (pdf only)
– Do you need documents in addition to the invitation letter of PPVII format?
    – No (ignore the questions below unless you have multiple visa applicants)
    – Yes, I need a "Letter of Invitation" in the format by Ministry of Foreign Affairs
    – Yes, I need a "Letter of Guarantee" in the format by Ministry of Foreign Affairs
If yes, answer the following
– Place of Ambassador / Consul-General
– Gender
    – Male / Female
– Date of Birth
– Age
– Occupation
If you apply for visa for multiple people:
– Number of Additional Visa Applicants
    – Attach the list of applicants if applicable
—————————————–