Transfer routes:
The closest international airport to Kyoto is Kansai International Airport (KIX) which is about 2 hours away. There are also two domestic airports, Osaka International Airport (ITM, note that it is not really international now) and Kobe Airport (UKB). Alternatively, you can take the Shinkansen from Tokyo (Tokyo International Airport (HND) or Narita International Airport (NRT)) or Nagoya (NGO). Since there are only a few flights from the US and Europe to KIX and NGO, we recommend you to consider flying into NRT or HND and then take a domestic flight to ITM or the Shinkansen to Kyoto.
Public transportation in Japan is fairly punctual, and routes from each airport to the closest station of the venue can be found on the following websites. https://roote.ekispert.net/en
When searching, please use the station names in red below. We recommend changing the options in settings to "Tranfer time: Relaxed", "Price: Cash", and "Express fare: Reserved". On the search results page, you can sort the results by switching tabs "Arrival time" (sorted by arrival time), "Rate" (sorted by lowest fare), "Transfer" (sorted by number of transfers), and "Eco-friendly".
The following are several examples of typical transfer routes. Note that the suggested routes and estimated travel times on the map are automatically generated by Google using the "leave now" option and may not reflect the actual daytime case, depending on when you view this page. Click on "More options" on the map and set the suitable time for your travel plans.
Floor Map of Kyoto International Conference Center: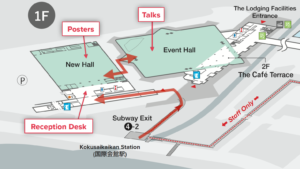 Hotel Suggestion:
There is only one hotel near the conference venue, The Prince Kyoto Takaragaike. This is an upscale hotel and is expensive. If you want to find a reasonable and convenient hotel, we recommend you to search along the Subway Karasuma line between K07 Marutamachi station and K12 Kujo station. As the early April is a touristic season, we recommend you to make reservation early.
Local Transportation:
The local public transport in Kyoto is fairly convenient. While we recommend you to take the subway to the conference venue, there are other trains and bus services. In Japan, Uber and similar services are not available, but you can use the Uber app as well as DiDi and GO to call a taxi. For details, please visit Kyoto City Official Travel Guide.
https://kyoto.travel/en/info/transportation/index.html
If you are planning to use public transportation frequently, we recommend you to get an IC card. You can use it to take trains and buses, but also for payment at various stores. For foreign visitors, the KANSAI ONE PASS comes with additional benefits.
https://kansaionepass.com/kf_pr/kf_pr_en.html